One of the most memorable and meaningful experiences of God's Grace in my life happened many years ago.  At that time, my two-month-old baby was suffering from a  harsh cough which seemed to be getting worse by the minute.  After taking him to his pediatrician, who was very concerned but unsure of  the cause, I followed his advice and took Timmy to a pediatric heart specialist.  He, too, was very concerned and considered my baby to be seriously ill, but was also unable to make a confident diagnosis.  The pediatric heart specialist recommended we get Timmy immediately to Chicago's Children's Memorial Hospital.  We lived in the northwest suburbs at that time, so were able to get him there fairly quickly.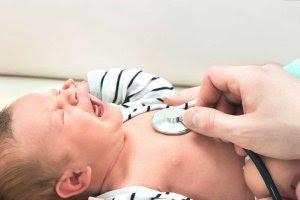 However my critically ill son was not examined until countless forms were completed while he was vigorously crying, even turning blue from time to time, but not yet receiving help with his respiratory problem.
Finally, Timmy was admitted but once again, his illness was not accurately diagnosed.  Several doctors sincerely tried to identify what was causing his breathing difficulties and harsh coughing.  For several days they observed him, but the truth is, he was not improving.  Praying helped me remain somewhat calm, but fear of what the final diagnosis would be was overwhelming.  Timmy was still struggling night and day, just to breathe and the continuous coughing was wearing him out, yet he rarely fell asleep.
I stayed with my child at the hospital as he would be in danger of choking if left alone.  There was a severe shortage of nurses at that time and most of the youngsters in the hospital had to be left alone much of the time.
My faithful prayer partners and I fervently prayed around the clock for his healing.  One lesson I had read in a book by Catherine Marshall was about The Prayer of Relinquishment.  Actually, I had tried to push it out of my mind as it seemed too difficult to even contemplate at this disturbing time in my life. But, it seemed the more I tried to avoid even thinking about it, the more it kept returning to my mind. I didn't truly believe I had strong enough faith to pray it and honestly mean it.   So instead, I continued to pray the same plea: Please, Gracious, Loving Heavenly Father, just heal my baby and let this dreadful time be over.  I will thank and praise You always. In Jesus' name I pray.  Amen!          
Meanwhile, Timmy continued to gasp to get his breath, still turning blue.  It seemed to help when I picked him up and gently turned him upside down. But no improvement.
Finally, the power of God's Holy Spirit came on me and gave me the courage I needed.  I knew it was time for me to pray The Prayer of Relinquishment.  After another short but seemingly fruitless visit by a new doctor, I fell to my knees in front of Timmy's bed.  Struggling to be sincere, my prayer went something like this:  "Gracious Heavenly Father, Thank you for hearing this prayer. Thank You for this precious baby boy who is such a blessing.  Today I am intentionally surrendering him back to you.  He is Yours . . . Your will be done.  If it is Your Will to take him to be with You, I will still praise Your Holy name.  I relinquish Timothy Jon to You in the name of my Lord and Savior, your Son, Jesus Christ.  Amen!   
As I got back on my feet, I felt a bit of fear trying to overcome me, but at the same time  an even stronger sense of relief.  Nothing had changed with my son's condition, but I did have a new feeling of peace in my spirit.
The next day, another new doctor stopped in the hospital room to examine Timmy. He was kind and gentle but did not offer a diagnosis.  Later that same day, one of the regular doctors came in with good news.  The head pediatrician had diagnosed my son with whooping-cough and had ordered gamma globulin.  Treatment would begin as soon as this medicine arrived. What a relief!
Once the treatment was started, Timmy began to improve rapidly.  Soon his health was restored and he was able to go home where his big sister happily welcomed him with hugs and kisses. He was no longer contagious and everyone was happy to see him well again.
We have never been able to solve the mystery of how Timmy caught whooping-cough. He had been given the first shot of the DTaP vaccine but doctors all seemed to agree it was doubtful it had affected his respiratory system.  I am not sure I agree with their conclusions about that, however.
And I may not know for sure until the day I meet Jesus in Heaven, face to face, if my finally giving up my son to God and asking Him for His will to be done, had anything to do with the accurate diagnosis finally bringing about Timmy's recovery. Many very sincere believers pray similar prayers but have not experienced the recovery for which they believed.
It is my sincere opinion that the medical knowledge of the chief pediatrician who eventually made the accurate diagnosis and prescribed the right treatment  brought        about his recovery. I do not consider this as much a case of a miracle healing, as             His Excellent Grace!  
Shared by Darlene McRoberts